When the building itself turns 360 degrees, your life style changes.
Not only sunlight but you can also fully enjoy the goodness of the wind, rain, light, the shadow, and the sound.
You can now freely layout your room in various forms, which you have always given up because of the direction of your house.
By this new technology, the idea of the "Building" will be changed dramatically.
In addition, this technology can meet various forms by application; we can design it to rotating not an outside but the inner side of a building, rotating not a house but the yard, and rotating such as commercial establishments or public spaces.
Detached style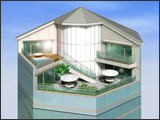 Apartment top floor style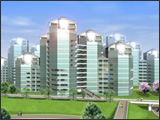 Maisonette style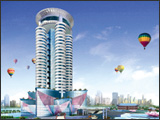 Other than this apartment top floor style and a maisonette style, we have proposed a design plan, which the each floor of the apartment rotates for the "Shanghai World Exposition Guesthouse".
Imagine looking at the beautiful Shanghai city, in the 360 degrees rotatable room built right beside a river flowing through the center of the city.